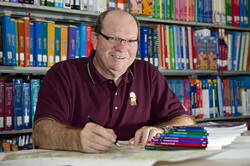 Phil Hardwick is owner of Hardwick & Associates LLC, a team that helps people and organizations reach their potential through strategic planning/goal setting, team building, personal coaching and accountability. He is also Instructor of Management at
Millsaps College
and a regular
Mississippi Business Journal
columnist. He has taught over 1,000 students, written over 600 columns for the Mississippi Journal, written 11 books and assisted over 100 communities and organizations with strategic planning.
His previous positions include Coordinator of Capacity Development at the
John C. Stennis Institute of Government
,
Mississippi State University
, Vice President of Community and Economic Development at Mississippi Valley Gas Company (now
Atmos Energy
), Director of Economic Development for the City of Jackson, Mississippi and Executive Director of the
Mississippi Real Estate Commission
.
He is a Past-President of the
Mississippi Association of Partners in Education
(currently a Board member), the
Mississippi Main Street Association
, the
Mississippi Economic Development Council
and the
Mississippi Sports Hall of Fame and Museum
.
He received his undergraduate degree from
Belhaven College
and his MBA from Millsaps College. He is also a graduate of the Senior Executives in State & Local Government executive program at the
John F. Kennedy School of Government at Harvard University
. During his military service he was Security Team Leader for
Army One
, the Presidential helicopter.
In his spare time he is a prolific writer. (See Mississippi Mysteries Series link above.) He is currently serving on the Board of Directors of the
Southeast Chapter of the Mystery Writers of America.
Email:
phil@philhardwick.com
Telephone: (601)594-3371
www.philhardwick.com
Twitter: @philhardwick
---