Latest News

:

Phil will be leaving the Stennis Institute August 31, 2014. Click here to read the Mississippi Business Journal cover story about Phil's transition.MORE Latest NEWS: Phil's new monthly newsletter begins in September. Send Phil an email at phil@philhardwick.com to sign up.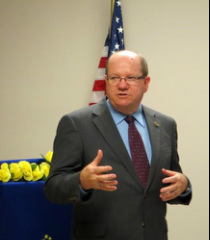 Phil Hardwick is an economic/community developer, facilitator, public speaker and author.
In his regular job he works at the
John C. Stennis Institute of Government
at
Mississippi State University
. As a private consultant he facilitates strategic planning retreats for chambers of commerce, nonprofit organizations and corporate boards. He also serves as a moderator for community forums for several organizations.
In addition to being a regular columnist for the
Mississippi Business Journal
he also writes mystery novels.
His regular blog
concentrates primarily on matters of community and economic development.
He invites your comments and contact at
phil@philhardwick.com
.
Twitter - @philhardwick.
---